The 3 Ps in learning music: Passion, Patience, and Practice
In the world of learning music, there are three powerful pillars that pave the path to mastery: passion, patience, and practice. As per Joshen V Koshy, director at The Mystic Keys, these three essential elements are not only vital for learning music but also serve as guiding principles for anyone embarking on a musical journey. Whether you're a beginner just starting out or an experienced musician seeking to refine your skills, understanding the significance of passion, patience, and practice is key to unlocking your full potential.
In this blog, we delve into the profound impact these three "P's" have on learning music, uncovering the transformative power they hold in shaping our musical abilities and nurturing our artistic souls. So, let's explore how passion ignites the flame, patience fuels the journey, and practice hones the craft, ultimately leading us to become the musicians we aspire to be.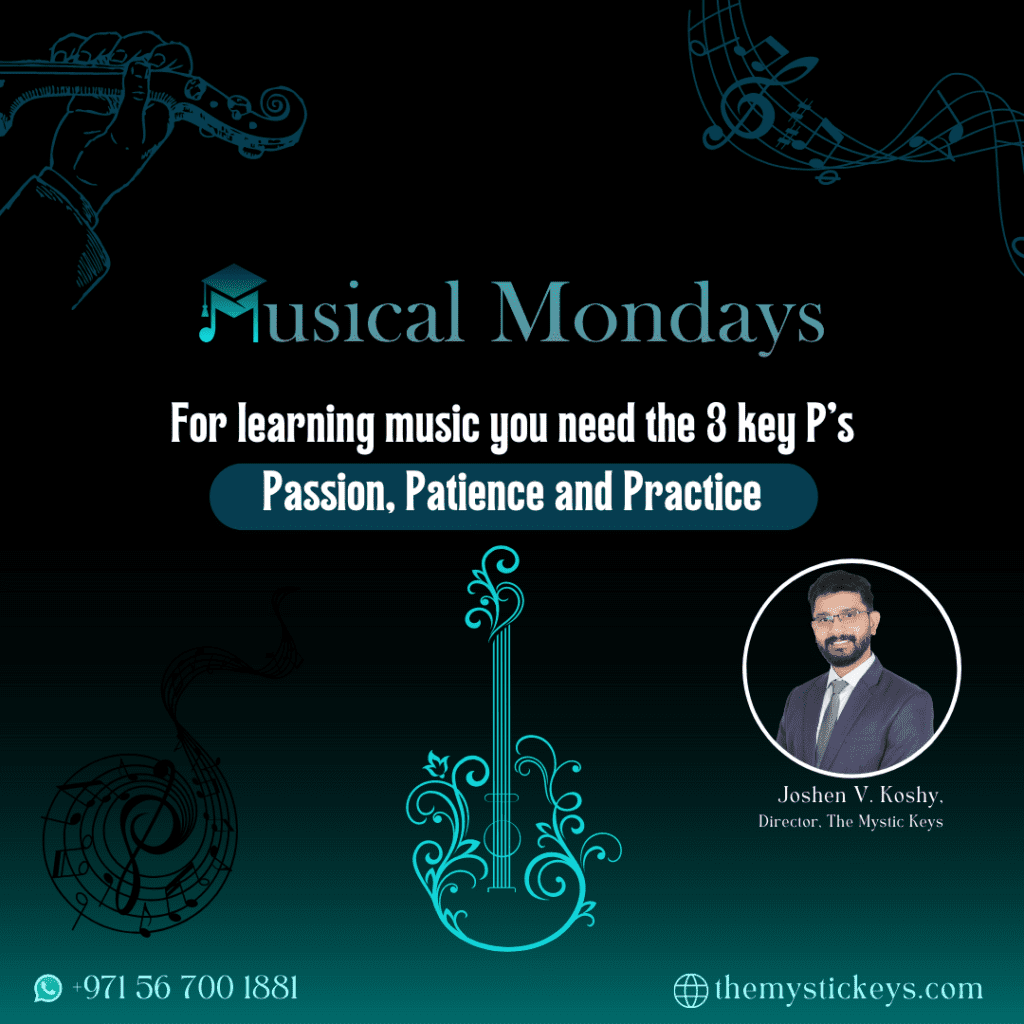 Let's take a closer look at each of these components:
Passion: Passion is the driving force behind learning music. It's the deep love and enthusiasm for music that motivates you to pursue it. When you have a genuine passion for music, you are more likely to dedicate time and effort to your practice, overcome obstacles, and stay committed to your musical journey. Passion fuels your desire to explore different genres, learn new techniques, and express yourself through music.
Patience: Learning music is a journey that requires patience. It takes time and consistent effort to develop your skills and reach your musical goals. Patience allows you to embrace the learning process, understanding that progress may be gradual and that you'll encounter challenges along the way. It's important to be patient with yourself, accepting that mastery comes with time and practice. Developing patience helps you maintain a positive mindset, persevere through difficult moments, and appreciate the incremental improvements you make.
Practice: Practice is the key to improvement in music. It involves regularly setting aside dedicated time to hone your skills, reinforce what you've learned, and explore new musical territories. Effective practice involves repetition, focused attention, and deliberate effort. It's not just about the quantity of practice, but also the quality. Consistent and structured practice sessions allow you to refine your technique, build muscle memory, develop musicality, and expand your repertoire. The more you practice, the more confident and proficient you become as a musician.
By embracing the 3 Ps of Passion, Patience, and Practice, you can cultivate a solid foundation for your musical journey. These principles apply to musicians of all levels, whether you're a beginner or an experienced performer. Remember to nurture your love for music, stay dedicated even when faced with challenges, and consistently devote time to focused practice. With these elements in place, you can make meaningful progress and experience the joy of creating music.
Have a look at The Mystic Keys as we unlock the door to your musical dreams.