Welcome to our Online Carnatic Vocal Lessons! Experience the blissfulness of this traditional South Indian classical music form in our beautifully designed course on Carnatic vocals. 
In these online lessons, you will learn the basics of Carnatic Music, including vocal techniques, ragas, and compositions, all from the comforts of your own home. As a result, a deep understanding of Indian Music radiates into the performances of our students. And the outcome is a pure mesmerization of the audience.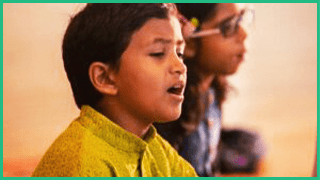 Vocal Lessons for Beginners & Kids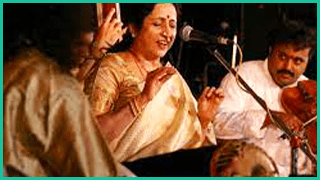 Vocal Lessons for Advanced Learners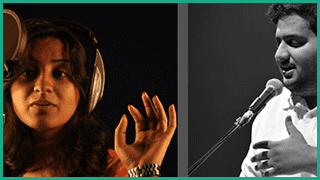 Qualified & Personalized Vocal Coaches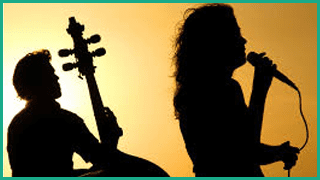 Online Lessons & Convenient Schedule
Our online Carnatic vocal lessons are conducted by experienced teachers who have received rigorous training in the art form. 

Personalized attention and guidance.

Develop musicianship.

Through our ear-training techniques, you learn to play by ear and improvise.

Advanced level of music theory and ability to read notations

Techniques to hold breath longer

Extensive practice of different ragas, gamakas, talas, and more.

You understand harmony and song-structure

One-hour class every week

Online Classes that you can attend from the comforts of your home

Multiple batches to help schedule your classes as per your convenient time

An option to choose between group classes and one-to-one interactive classes
We have multiple options to suit your needs and budget. From affordable to premium sessions with internationally acclaimed artists, we have a lot in store.
To figure out the best option for you, connect with us using the WhatsApp icon below. And get a free consultation. 
Passion for learning Music – That's all you need to enroll in our online Indian Classical Vocal Lessons
Interested in learning from our valued teachers? Fill in the form below and register now with us. Get the fee structure right into your mail.
Seats are getting filled faster than ever!! Hurry up to not miss the chance.
Student Registration Form
Have Queries? No problem. Just click on the WhatsApp icon in the down-right corner of the page and get a free consultation.
Most frequent questions and answers
These vocal lessons are suitable for beginners, as well as intermediate and advanced learners. No prior knowledge of Carnatic music is required.
You will learn the basics of carnatic music, including ragas, gamakas, talas, along with various vocal techniques and exercises to improve your voice and range.
The lessons are conducted online via live video conferencing with our experienced and qualified Carnatic Music teachers. You will receive personalized attention and guidance in each session.
You can reschedule or cancel a lesson with prior notice to your teacher. If you miss a lesson, we can arrange for a makeup session at a convenient time.
We offer our students multiple time options to choose from as per their convenience. They can attend our classes in the morning, afternoon, or in the evening. They can also select the day of the week when they want to attend the classes.
The class duration is usually one hour. However, it can vary depending upon the needs and requirements of the students as well the course for which you register.
Since we cater to the music students from all around the globe, it is not possible for us to keep the same price for all. Also, different students come to us with different levels of prior expertise. Thus, we have a detailed discussion with the students about their requirements and prior expertise. And then, we get into the perfect pricing for each student.
You can enroll with The Mystic Keys' Carnatic Vocal Course in a few simple steps
Fill up the course form
Pick a convenient time
Chat with our music experts
You can do a trial session with our outstanding faculty
Complete payment and get started
Refer to this blog for a step-by-step guide on enrollment with The Mystic Keys.